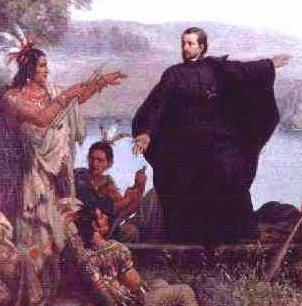 I once heard a story about a 16th century Jesuit mission in Brazil. After a long interaction with the people and some individual conversions, the chief decided to become a Christian (presumably bringing with him the rest of the tribe). As part of the process, the chief met with the leader of the mission to be examined. The priest began asking doctrinal questions. He asked the chief, "How many natures does our Lord have?" The chief responded, "As many natures as you say he has, Father."
Setting aside the more obvious missiological issues surrounding such a tale, this story raises for me the question of
the role of submission in belief
. To what extent was the chief's answer the right one? To what extent is submission to authority an aspect of conversion and faith? To what extent does such submission include submission to authority of the church? Or, is such submission indicate a lack of genuineness? Does one who publicly submits to the beliefs of his or her church while at the same time questioning them lack integrity?
I don't have any full blown answers to these questions, though I have come to some existential peace about these matters in my own life. I am more interested in raising them for further reflection and discussion. So ...
Any thoughts?
What role should submission play in belief?
Specifically, what role should submission to one's church play in belief?
Does submission spoil belief?
Is belief possible without submission?
_